HOMESCHOOLING e-BOOKS
Like most work-at-home Moms, I utilize the web a lot to research latest marketing ideas, web tools, and internet trends. For a couple of years now, I have been purchasing ebooks on just about any subject. I like the idea of downloading information instantly and printing my own copy of a book immediately, no need to wait for USPS delivery.

I told myself I should learn how to publish my own ebook - primarily to promote homeschooling! Well I was very slow! To my surprise, I discovered recently that someone had already done it for me! Not just one, but a couple or more veteran homeschoolers have joined the eBook revolution!
This is great news for those wanting to get instant answers to their questions about homeschooling! eBooks are no longer for internet marketing gurus! I am very amused by the titles and sales pages of these ebooks: great way to promote homeschooling with an internet marketing twist! Way to go homeschoolers!
HOW TO HOMESCHOOL EBOOKS: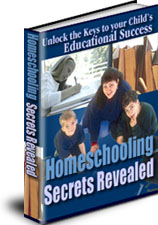 Homeschooling Secrets Revealed - Unlock the keys to your childs educational success. Don't Risk It! If You Love Your Kids, Homeschooling Is The Answer To Overcrowded Classrooms And Underperforming Teachers. Pioneering New Book Shows You How Easy It Is To Start Homeschooling. Don't Take A Chance On Your Child's Future !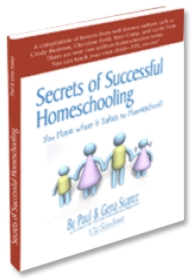 The Old Schoolhouse Magazine' Secrets to Successful Homeschooling - Do you ever wonder if you really have what it takes to homeschool? Do you ever wish you knew how other homeschooling families get it all done?
OTHER EBOOKS FOR HOMESCHOOLERS:
Everyday Education.

Transcripts Made Easy: Your Friendly Guide to High School Paperwork - Create transcripts and diplomas for homeschool!

LitWorks.com.

Provides English Literature study guides to high school students and teachers.

Related Page: Homeschool Books and What Are we Reading?